Banteay Chhmar is the fourth largest temple complex  in Cambodia and one of the biggest in the world,  situated about 164 km north east of Siem Reap, nearby the border with Thailand in the Banteay Meanchey Province. Since 2010, thanks to a new road, the temple is  only one hour drive from Sisophon on the highway 56.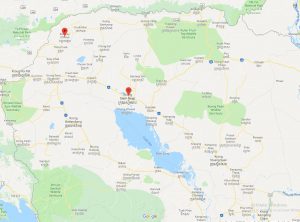 Description of the temple
Banteay Chhmar,  also known as  the small  citadel,  is an massive temple complex having 4 entrances with causeways lined up on each side with stone  giants like in Angkor Thom and Preah Khan. Surrounded by a 63  meters wide moat it has also a large Baray connected to it.
Banteay Chhmar was commissioned by King Jayavarman VII during the late 12th century and  dedicated to  his son. Its design  follows the  Bayon style with many face towers: according to Groslier who surveyed Banteay Chhmar in 1920's and 1930's,  half of the 56 towers had 4 faces  like the ones we can  still see today in Angkor Thom and Bayon. Unfortunately, since then,  due to the lack of  maintenance, only few towers are still standing.
The one kilometer long outer wall is rich in  bas-reliefs, very similar to the one in Bayon temple, where scenes of wars and everyday life are depicted. Although large sections are now collapsed, many beautiful  carvings still remains. Two  beautiful carvings of the Avalokiteshvara with 32 hands  and 20 hands are decorating the western wall. Originally, 8 multi-armed Avalokiteshvara were carved on this wall, two of them are under the rubles,  two are believed to have been stolen, and the last two are at the Phnom Penh National Museum.
Research and Conservation Work

Even though the French explorer Etienne Aymonier visited first Banteay Chhmar in 1911, the earlier archaeological surveys were carried out by George Groslier in 1924, 1934 and 1935: he described back then  a temple in a pity state with  few face towers standing. He took many photographs which are  priceless  to archaeology research today.
Banteay Chmmar was added to the tentative UNESCO list in 1992, the same year that Angkor Wat temple was listed UNESCO World Heritage  site. Because of its remote location, like Preah Khan of Kampong Svay, Banteay Chhmar  was  unfortunately the  target of  extensive lootings in the 1990s. In 1999, an organized group of thieves  were intercepted in Thailand with 177 pieces of sandstone as they dismantled 12 meters of wall  with two Avalokiteshvara carvings. One of them, a 10-arm Avalokiteshvara  is now exhibited at the Cleveland museum in USA, recently loaned  by the Phnom Penh National Museum in October 2017.
In 2008, the Global Heritage Fund (GHF)  setup a multi-year project  with many stakeholders such as The Ministry of Culture & Fine Arts, the government of Cambodia and  people living in the vicinity of the temple. Led by Dr John Sanday, this project  achieved in 2015,  was a success in restoring the temple, training Cambodians  but also providing the base for a sustainable tourism by setting up a community based tourism called CBT. Dr Olivier Cunin who did a lot of research on the architectural style of Banteay Chhmar and  built an impressive  a 3D model, concluded that Banteay Chhmar was built in different stages,  at the same period  than some structures of Bayon and Preah Khan temples. A video of the 3D model made by Dr Cunin can be watched here (starts at 5'15").
Why it is worth visiting Banteay Chhmar?
With the  popularity of the temples of Angkor, especially Angkor Wat, Ta Prohm and Bayon, it is increasingly  difficult to be at peace in the temples. Here you can walk  among the ruins alone and have a feeling of mystery and adventure. You can  forget also the  many ticket checkpoints  of Angkor, just sign a book at the entrance and you are all set;  difficult to believe but  no tickets will be delivered to you and if you are coming back the same day just point your name on the book. The entrance fee is only USD 5 which is the same price than for  Beng Mealea temple.
If you feel more adventurous you can go around Banteay Chhmar and visit the 9  satellite temples built at the same period: of  particular interest are Ta prohm, Prasat Samnang and Ta Nem. If you look carefully you might even spot two  original  wooden ceiling  in one of them. If you have time, it is worth strolling in the village and have a look at the farmers working on the manioc.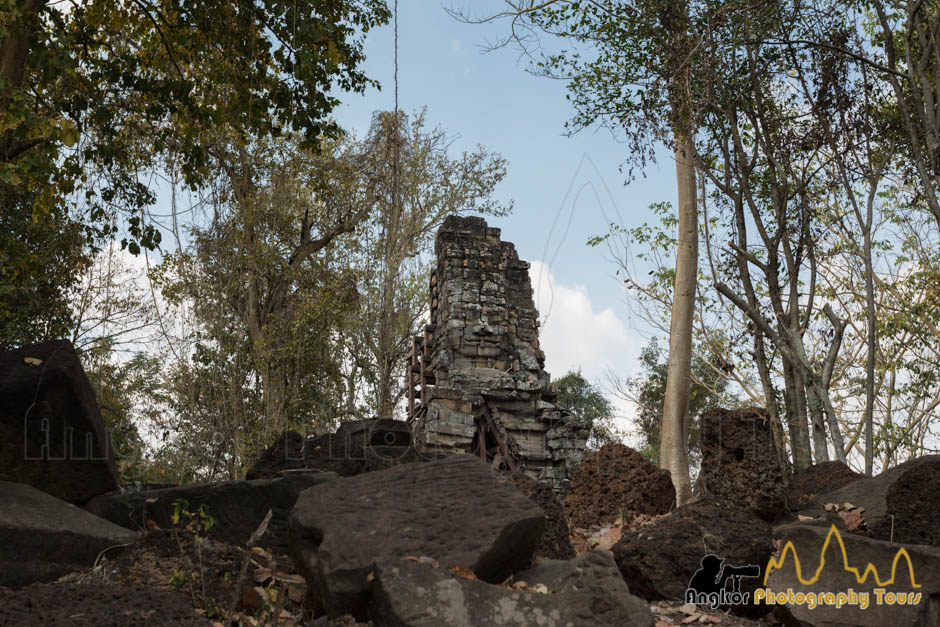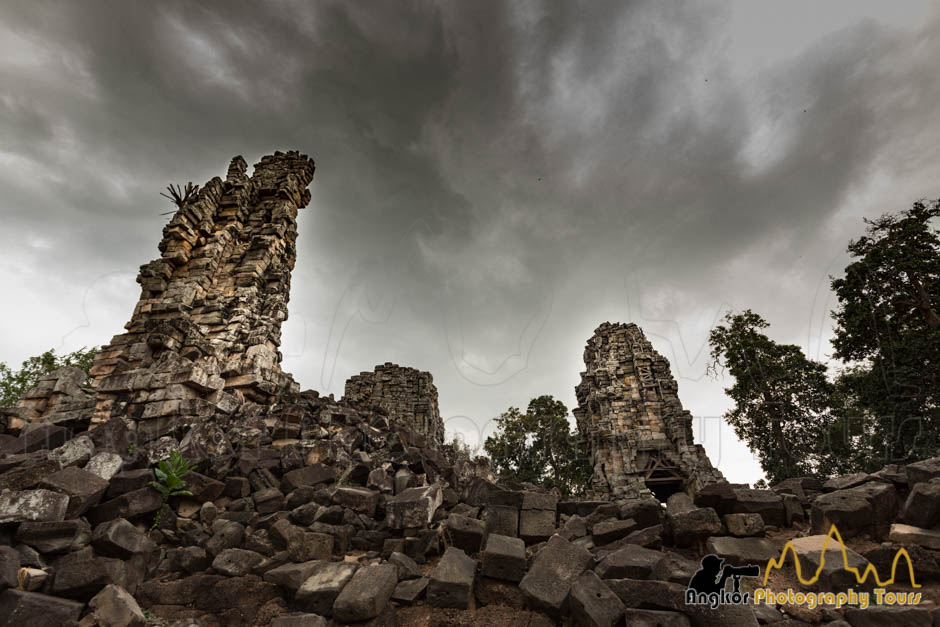 Due to its remote location, Banteay Chhmar escaped the iconoclastic reaction which took place in Angkor when almost all  of the Buddha images in the Jayavarman VII's temples is Angkor were destroyed or altered (Ta Prohm, Preah Khan, Bayon,…).
In 2007, Banteay Chhmar received its highest number of tourists with   2200 visitors, a sharp 300% increase from 2008. To put things into perspective, Angkor Wat temple receives about 10 000 visitors on a busy day. We therefore strongly suggest  to visit  Banteay Chhmar after Angkor Wat and not  the other way around…
To add to your Banteay Chhmar experience, we  recommend to sleep at one of the  homestay of the CBT  to immerse even more yourself and have the chance to enter the temple early to take advantage of the golden hour. Some of them are only few hundred meters away from the temple. Booking is recommended as all homestays  can  only accommodate about 30 persons.
If you are a passionate photographer, please check out our special  photography holidays  at Banteay Chhmar.
Related videos
BEYOND ANGKOR: CAMBODIA SCULPTURE FROM BANTEAY CHHMAR (2017 Cleveland Museum of Art. English, 6 min)

watch online: Complete (6 min)
THE SMALL CITADEL: RECONSTRUCTING THE RUINED BUDDHIST COMPLEX OF BANTEAY CHHMAR (2010 Freer and Sackler Galleries Smithsonian Institution. English, 66 min)

watch online: Complete (66 min)